Hendrik Van Keppel and Taylor Green were both born in 1914 in California. In their lifetime they would create one of the most influential industrial design firms by the name of Van Keppel-Green. The origins of their work began with Hendrik when he was living in San Francisco in the 1930s. He designed a chair made of scrap iron he had fabricated by a blacksmith and that he wrapped with marine cord he purchased in the Embarcadero. This work was his first documented effort to bridge nature with architecture by creating a prototype of his indoor/outdoor furniture, and in the history of industrial design was a pivotal and revolutionary accomplishment. After Hendrik moved to Los Angeles in 1937, and met Taylor, they originally worked together on Flower Street in downtown Los Angeles, but moved in 1939 to Beverly Hills. In the early days they were a couple, but at some point they became business partners yet maintained an extremely close personal friendship/business partnership based on testimony from friends, and lived together with respective boyfriends in the same houses until the business closed in the early 1970s. They had a series of shops in Beverly Hills until the late 1960s when an I.M. Pei building displaced them and they opened shop in Santa Monica, dubbed the Country Store. In their shops they sold their own designs as well as accessories from other designers, notably Architectural Pottery, as they were personal friends with Max and Rita Lawrence.
A catastrophic fire in the Country Store put them out of business in the early 1970s. Their work was sold for a while through a company called Benedetti.
VKG was essentially a custom shop. They had showrooms of their work, and manufactured it to architects', designers' and off-the-street customers' specifications in terms of materials used, color etc. Most of their clients were architects and designers associated with the Case Study House program. The iconic photo by Julius Shulman of Pierre Koenig's CSH 22 displays a house completely outfitted with VKG inside and out. Pierre told me he personally selected VKG because it paired with the steel frame house perfectly. He said Hendrik personally delivered the furniture and helped arrange it. Julius has a great photo he showed me of Hendrik holding up a rug during the photo shoot.
Another famous photograph by Julius Shulman of the Kaufman house by Richard Neutra snapped at twilight shows VKG lounge chairs and a table poolside. It is ironic that perhaps the two most famous photographs of modern architecture have in them VKG, but few people know who designed it.
VKG has a unique look and feel to it; something is very different from their work and other designers who started after them such as Florence Knoll, Harry Bertoia, George Nelson, Charles and Ray Eames etc. It is notable that these later designers often borrowed from VKG, and Hendrik was furious at Florence Knoll for "stealing" his design for a metal framed table and chair. So many elements of VKG have been adopted by other designers that few realize what a huge impact their work has had on contemporary industrial design.
VKG was very inventive in designing furniture that had multiple uses: tables could be converted in shelving, beds into lounges, room dividers could serve as shelves, tables had two legs with wheels built in so they could be moved around easily (see photo below) etc. This adaptability of the furniture to multiple human needs was a further extension of how VKG sought to expand traditional notions of furniture. As Elaine Jones, architect Quincy Jones' wife told me, "VKG were concerned with people's needs and their design imagination solved a need...they sold a lifestyle."
Most people mistakenly think VKG made outdoor furniture because this is where most customers placed it. However, the vast majority of their work, aside from some wood pieces, was made specifically for indoor and outdoor use. Going back to the late 1930s VKG was promoting simple, pure, functional design that was made to facilitate indoor/outdoor living - a term they invented and used in their advertisements and marketing material for decades. No other designers at this time were making such a radical statement through industrial design. Local architects such as Rudolf Schindler and Richard Neutra were building houses that reduced the divide between the interior and exterior through large sliding doors, floor to ceiling plates of glass, outdoor sleeping rooms etc. However, in the 1920-1930s modern furniture was made for indoor use and was fabricated from materials that didn't allow for outdoor use. Schindler made some wood furniture for his King's Road house that he placed outdoors as well as indoors and was a natural extension of his buildings, but he never promoted it as such, nor sold it. Early photos of many of the modern homes built during this time show interiors with traditional indoor furniture, and for outdoors all there existed was hideous wrought iron lawn furniture or Adirondack chairs. VKG filled a void by providing furnishings that could be used both indoors or outdoors thus mimicking the concept of the architecture being designed by fellow modernists, as well as providing for the very first time a consistent design theme that was carried out both indoors and outdoors.
VKG ad in Interiors magazine, August 1961
VKG stayed focused on this concept throughout the three decades they were in business to huge success. Their work was in nearly all the Case Study Homes, turned up in the vast majority of modern houses photographed not only in Art and Architecture, but in Interiors magazine. They won design awards nearly every year, were featured in exhibits around the world, displayed in the Museum of Modern Art in NY - Philip Johnson was a good friend of Hendrik's. They also did interior design work. John Caldwell was a consultant for the furniture firm Brown Jordan that manufactured some VKG, and later helped in early stage consulting for Design Within Reach. Caldwell says, "they were purists. Very clean. All the interior design work they did in houses was a very white wall deal. They would place an architectural pottery piece on the floor, a few pieces of their furniture – it was a very white wall deal." VKG rented their designs to film studios, and anyone who has watched the film Giant, might recognize the scene by the pool where Rock Hudson and cast are lounging on VKG.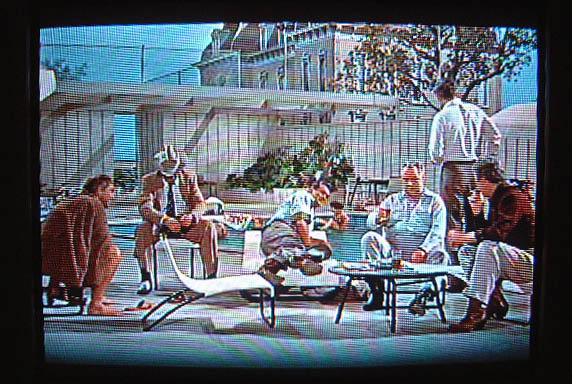 Screen shot from the film Giant
Hendrik and Taylor were deeply immersed in the Hollywood scene and where friends with people such as Vincent Price, Tony Duquette and Anne Baxter (who was Frank Lloyd Wright's grand daughter). The VKG shop in Beverly Hills was a magnet for celebrities such as Richard Chamberlain or Frank Sinatra who was spotted with Mia Farrow at one of their many social functions. The Country Store held art exhibitions and there was a kitchen in the store where Taylor's brother Fred and his aunt taught cooking classes. Their shops weren't designed to be just for retail, but were a complete experience that drew people from around the world. Ed Frank, the owner of another important modern furniture shop, Frank Brothers, recalls how Jens Quistgaard when he first visited Los Angeles insisted he first visit the VKG shop and whenever he returned to L.A. would pay them a visit. Of course VKG stocked a number of Quistgaard's designs for Dansk.
VKG also nurtured young talent such as Rudi Gernreich who was hired to work in their storeroom and later designed fabrics for their furniture. Gernreich later became a famous fashion designer known for his topless bathing suits and work with his muse and top model Peggy Moffitt in the 1960s.
With the closure of their business in the early 1970s, and Hendrik's death in the 1980s, and Taylor's in the 1990s, VKG fell off the map. Both men's effects were scattered after their deaths leaving no cache of records, photographs, or saved interviews. Their work was no longer being manufactured and rarely was known outside the design community in California. Every now and then a piece would appear in a vintage shop or at auction.
Fortunately, my research has turned up an unbelievable amount of material ranging from hundreds of photos, drawings, letters and catalogs that were discovered in a shed where they had been stored for nearly two decades. I tracked down and interviewed surviving friends, family members and architects who worked with them. It is my hope that this book will re-establish Hendrk and Taylor as the design greats they were in their lifetimes, as well as provide a valuable resource for identifying what is VKG and what is not. Regularly, misinformed or dishonest dealers try to sell furniture or accessories they claim is VKG when it is not. This book will set the record straight.
Fake VKG - Beware:
Just look at this ad on craigslist for supposed "VKG" - the fact someone thinks these ugly things are VKG is why this website and upcoming book are so desperately needed.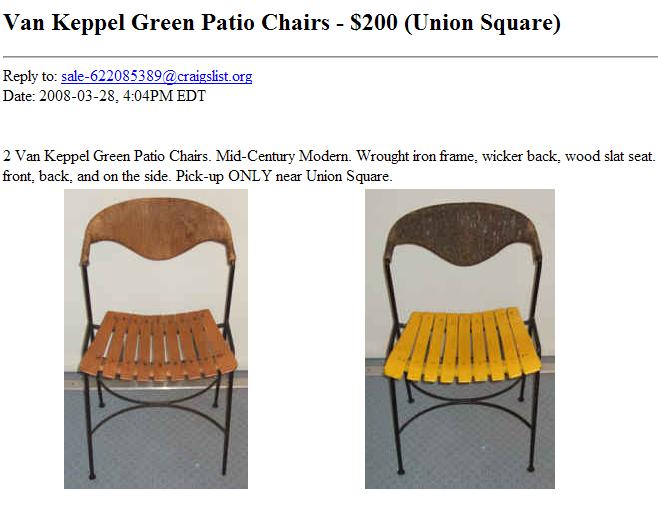 These chairs are NOT VKG.
Or look at these non-VKG chairs someone is selling on Ebay for $7600. This is simply criminal since these are not VKG and that price is totally out of line. Whoever purchases these thinking they are VKG are being ripped off. VKG was so widely imitated that for the uneducated, what appears to be VKG is not. I emailed the store to tell them they aren't VKG but they refused to change the listing. Moral of the story - never trust anyone but do your homework yourself or ask them to prove via reputable published material that it is what they claim it is.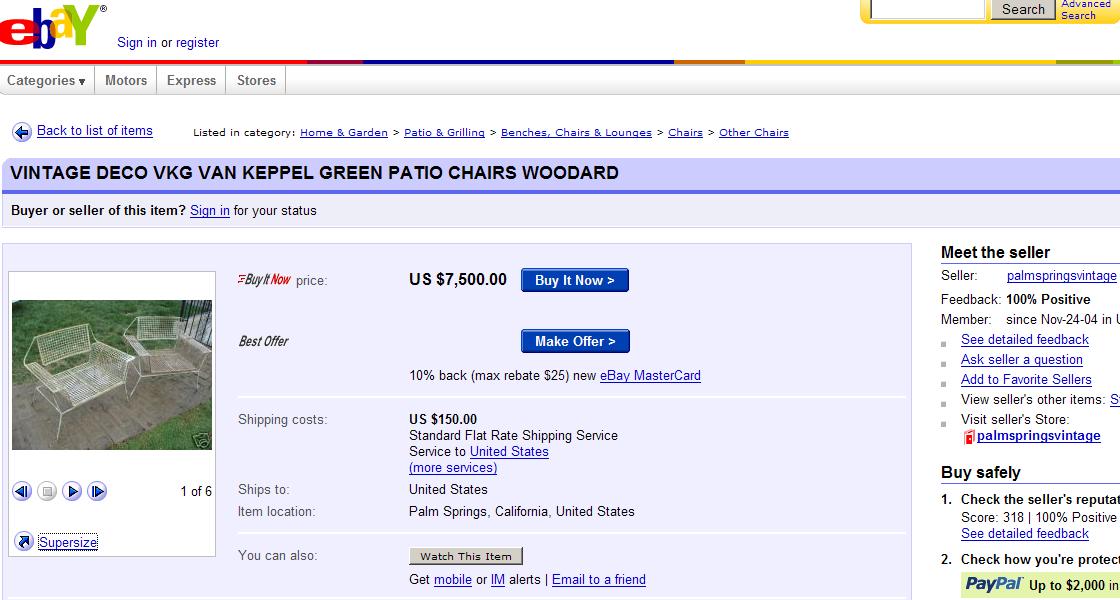 These chairs are not VKG either.